featured interview
Bryan Ford:
'I like how hip-hop has continued to incorporate different types of music.'
Killah Priest is always in for an adventurous trip to further widen his already impressive discography. So when multi-genre Chicago producer Bryan Ford asked him to team up for some live sessions, Priest said 'yes'. Those sessions quickly became a full length album. 'The Future Of Hip Hop', which is called 'Killah Priest's most ambitious project to date'- is a potpourri of influences and styles with a whole lot of live instrumentation. Also featuring: Chicago mainstay lyricists Pugs Atomz and Awdazcate.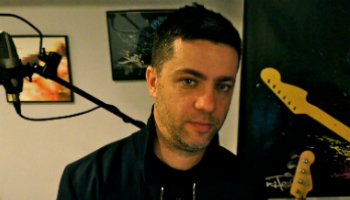 During the recording sessions you brainstormed a lot about the future of hip-hop...what are some of the conclusions you came up with?

Actually we all went into this project with a pretty open mind. We didn't set out to make a statement per se. The name of the album came from a line that Killah Priest said: 'for the future of hip-hop, respect due'. I took that one line and repeated it because I thought it sounded cool and definitive. So then that became the name of the song. And then we all were like 'Let's call the album that'. If anything, it's an ode to what the future of hip-hop will be and could be. But really, we were just having fun making tracks.

What will the future of hip-hop be?

It's hard to gauge where things will go with music or where trends will lead.

Some of the greatest shifts in hip-hop's sound is the evolution from samples to live instrumentation...

Whether on MPC's or live, I like how hip-hop has continued to evolve and incorporate different types of music, different hybrids and styles, mixing and matching. I think that's what hip-hop and music is all about. If it stays in one place too long, it starts to get stale.

'So many rap records are made out of the same short little segments of music or repeated four-chord progressions', musician Louis Logic says. 'I think our music (hip-hop) deserves better.'

It's really a matter of taste. You get a certain feel from MPC/programmed beats and sounds that's hard to duplicate live. My show consists of a hybrid mix of the two. To have the best of both worlds and make something totally unique but familiar at the same time. If that makes any sense.

If you hadn't learn to play instruments, would you make music with an MPC or SP12?

That's a 'chicken or the egg?'-kind of question. Loop and drum machines, if used to their full potential, are pretty much instruments of themselves. I always was really excited about music before I could play anything. So either way, I think one or the other would have found their way to me.

Do you have a drum machine?

Yes, a 808 and a 909 which I map over my electronic kit and play the sounds like it's a real kit. It preserves the familiar sound but gives them a live dynamic feel.

The one thing that DJ Vadim really likes about Pugs Atomz is his voice. Is that also the main reason why you like to work with him?

Of course he's a tip-top MC and performer, and along with Awdazcate, they really get things going live. But I really like his lyrical style and his just all around vibe. He's a talented dude.

How did you meet?

I met Pugs when I was doing a regular night at a club called Rodan in Chicago. We would have different MC's come in and the band would play some of their songs as well as rhyme over some of my songs. We had MC Tree, Pseudo Slang and others perform. Pugs played with us and it really went well. Pugs and I pretty much clicked right away.

Tell us more about how you hooked up with Awdazcate...

I met Awdaz through Pugs. Him and Pugs are the dynamic duo of the Chicago hip-hop scene. They know everyone and everyone respects them. I clicked with Awdaz right away too. He's a natural performer, singer and he's funny as hell. So yeah, we all have a good time hanging out making songs.

Did you listen to 'Heavy Mental' again before recording?

I actually tried not to listen to too much Killah Priest. I wanted to approach the sessions with a fresh take.

When was the first time you heard the music of Killah Priest?

'Heavy Mental'!

Are there more releases from you and Killah coming up?

We have about 5 or 6 unreleased songs, so stay tuned for more.
POSTED 05|10|2016
conducted by cpf