featured interview
Random:
'I was tempted to strike while the iron was hot'
Announced as 'the album of his life', Random aims high with his latest release 'RNDM'. With features such as Kool Keith, Murs and Joell Ortiz, the former teacher from Philadelphia names it 'the biggest thing that I have ever done.'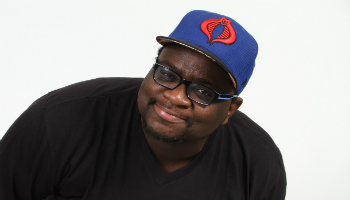 You were being named one of LA Weekly's Top 5 Rappers Who Would Be Big in 2014. If not already, this is the moment, right?

(laughs) I don't know man! They did a follow up on that article and gave me a B+ on their predictions. I took that to heart. I don't know if they expected me to drop my game-changing album right after they put that crown on me, but I knew I had a plan! And it was in the works, we've finally executed.

In what way has your working method changed since that ?nomination??

It hasn't changed what I do. But that was a hard thing for me. I was really tempted to show all the cards and try to strike while the proverbial iron was hot on that, but all things in due time. I knew even then that ?RNDM? was going to be the biggest thing that I had ever done. And that it was still in the works. It was kinda like the Batman '89 flick where Joker sees the paper and laughs like ?You think this is something? Wait till they get a load of me.? (laughs)

On 'RNDM' you rap about your different rap persona's. An interesting track on this subject is ?The Meeting?. How much of Random is in Raheem? And how much of Raheem is in Mega Ran?

They're one in the same now. It just took me several years to realize it. I am completely comfortable with either one at any time. When in the past, I didn't feel they could coexist.

You were a full-time teacher. But you quit teaching to fully focus on your rap career. Was that a difficult decision?

The difficulty came in having to realize that I wouldn't get to see my students through the year. To see their growth and development. I didn't want to be thought of as another adult who quit on them. I hope that me deciding to go for it inspires them.

On this record you utter your frustrations with the American school system. So returning to the class room is no option?

No. There's no way I'll be allowed back in there after the song ?Revisions?. I watched a lot of mess go down. I feel like it's just too far gone to fix without a literal deconstruction and rebuilding.

What are some of the solutions you propose?

It all starts with giving the teachers a feeling of support and strength. Better pay, more administration and parental accountability for starters. But the whole system is out of whack.

You call yourself ?a nerdcore rapper?

Nerdcore is the best word because there's no better word to relay the message of what I do to the general public.

Do you feel related with MC Frontalot, the Godfather of Nerdcore?

MC Frontalot is a true nerd in many ways, that I don't even begin to fall into. I never coded or worked in tech support -- my nerdiness lied gaming, technology, sports statistics and literature. So in that sense I feel like we're all nerds. We can all find something that we're nerdy about.

From my understanding, Nerdcore is being true to one's self. Being okay with not being the coolest kid in the room. Not being afraid to bring out that nerdy side that's within all of us, and reflect it in your work.

The album has Murs, Kool Keith, Joell Ortiz,? do you sometimes read the track list twice to fathom?

Absolutely man. Guys that I grew up idolizing not only speaking to me, giving me advice, but agreeing to make music with me? Never imagined that would come up. It's a blessing, and it lets me know we're moving in the right direction.

You had plans on releasing a book. Will it be out soon?

Hopefully! I write a few pages every day. I can't wait to share it with everyone, but I think my biggest problem is how it'll end, because as I say in Dream Master: "That part hasn't been written yet."

When we asked K-Murdock what needed to be cured about music his response was: ?Less 808?. Agree?

(laughs) That's totally what K would say. I'd say music needs more soul. More feelings. I want to get inside of these artists heads and hearts and feel connected.

POSTED 09|30|2015
conducted by cpf